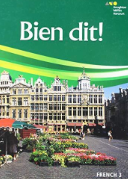 Course this book is used in:
French 3:

Homeschool
Online
Self-Paced
Connect a proficiency of speaking French with a passion for culture. Use the authentic resources and real-world-based activities provided to give students new experiences alongside their new language skills with 
Bien dit!
Lessons offer unparalleled, trusted pedagogy paired with technology that takes learning beyond the book.
Immersive learning enables students to explore fascinating locations all over the French-speaking world via HMH Field Trips powered by Google® Expeditions.
Using current authentic articles and videos from HMHfyi Français and News and Networking, students become invested in the language as they share their opinions online in a safe environment.
Activities for French Open-Source Content prepare students to handle the unscripted language they will encounter in real life. Students learn to research and comprehend Spanish-language Web content while practicing the ACTFL modes of communication.
*** 
For Homeschool and Self-Paced courses, answer keys to the text and workbook will be found in your parent portal after enrollment is finalized.