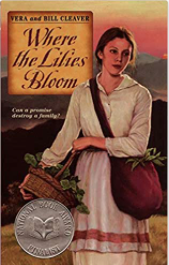 Course this book is used in:
An award-winning novel about the resilience of the human spirit, the power of duty, the fragile relationship between humans and nature, and the sacrifices we make for family.
Mary Call has promised her dying father to keep her brother and sisters together forever in their home in the Great Smoky Mountains, and to never to take any help from strangers. She is determined to keep her word—and her pride. No matter what.
At first she is sure she can manage. Romey, Ima Dean, and Devola help gather herbs to sell in town; the riches of the mountains will surely keep the family clothed and fed. But when winter comes, fast and furious, Mary Call learns that the land where the lilies bloom can be a cruel and unforgiving place, and it will take more than a promise to keep her family together.
This classic coming of age story explores issues of poverty, character, and perseverance.