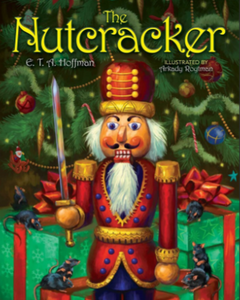 Course this book is used in:
On Christmas Eve, seven-year-old Marie and her eight-year-old brother Fritz anxiously await their Christmas gifts. When their godfather—a clock builder and toymaker—arrives, he unveils an ornate clockwork castle adorned with whirling figurines for the children. While Fritz plays with the clock, Marie is taken aside and given another gift—a nutcracker.
After Fritz grabs the nutcracker from Marie and breaks its jaw by cracking too many nuts, their playtime ends and they head off to bed. When the clock strikes twelve, magic makes its way into this enduring tale and an epic battle ensues.
This timeless classic, featuring all-new full-color and black-and-white illustrations by artist Arkady Roytman and abridged text by Gina Gold, is the perfect story to get anyone in the holiday spirit!