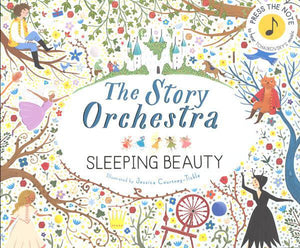 Course this book is used in:
 A beautifully illustrated version of Sleeping Beauty. Press the notes on each page to hear excerpts from Tchaikovsky's Sleepy Beauty.
Publisher Description:
Guardian: 'a lively retelling, enriched by Jessica Courtney Tickle's luscious illustrations - each spread is like an illuminated garden'
A stunning retelling of the classic ballet story brought to life by music! Set to the sound of Tchaikovsky's original music, this favorite ballet story features a a musical note to press on each spread. Join the King and Queen as they throw a party for their new baby, Princess Aurora. But when a terrible guest arrives and places a curse on princess, the kingdom must find the one special person who can defeat it...
Read the story, listen to accompanying music, then turn to the back of the book to find out more about the Tchaikovsky musical clips in this stunning gift book.
Manufacturer's note: please pull the white tab out of the back of the book before use. Sound buttons require a firm push in exact location to work, which may be hard for young children. All sound clips are 10 seconds long.
What a great selection of books that are sure to delight the senses! Not only are these wonderful stories, but the two-page layouts include bold beautiful illustrations covering both pages with objects and color to feed the imagination. On each page there is a "Press the note" button. When pressed the book will play a short clip of a selection written by the composer featured in the book. The back-page layout features a short biography of the composer and glossary of musical words. The books in this series also include song titles and descriptions next to the buttons which can be pushed to hear the selection again. 24 pgs, hc. ~Judy