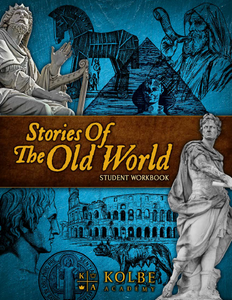 Course this book is used in:
History 4: Stories of the Old World:
A brand new book offering from Kolbe Academy. This volume is aimed at grade 4 and teaches world history using event driven history. The course is broken down into four units covering ancient Egypt and Israel, the Greeks, the Romans, and the Era of Christendom. Students will move through the different time periods in ancient Egypt and Israel and will briefly touch on Persians, Babylonians and other cultures that paved the way for Christ's coming in the fullness of time. The student will then move on to Greece, seeing the conquest of the ideas of the Greeks and their transmission to others via Alexander the Great. Then on to Rome where they will learn about the unification of the western world. Finally, they will read about Christ's birth, the foundation of Church and the rise of Christianity. The barbarian conquests, monasticism, the conquest, the high Middle Ages are all covered. The course ends as the world moves into the era of exploration. Designed to serve as a text and workbook for the student, this course has many fun features. Each narrative lesson includes text and four workbook pages, including vocabulary terms, timeline work, map studies, as well as close reading and reflection activities.