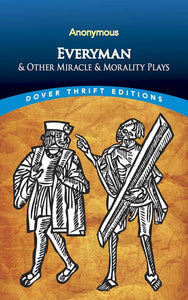 Course this book is used in:
Western drama, having all but disappeared during the Dark Ages, reemerged spontaneously in the liturgy and life of the medieval church. Vernacular miracle plays of England's Middle Ages were performed by lay people — many by trade guilds — unschooled in church Latin, but familiar with the biblical events upon which the dramas were based. Morality plays provided moral instruction, their principal characters vivid personifications of virtue and vice. The most durable of the morality plays has proven to be 
Everyman
, whose central character, summoned by Death, must face final judgment on the strength of his good deeds. This venerable drama is reprinted here along with three other medieval classics: 
The Second Shepherds' Play
, 
Noah's Flood
, and 
Hickscorner.