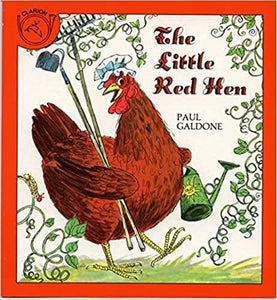 This timeless story of having your cake (and eating it, too!) comes to life with Galdone's dynamic, amusing pictures. A classic storybook for all young readers--and a cautionary tale for lazy ones. 
Little Red Hen
 is a time-tested tale about how we reap what we sow.
When the Little Red Hen asks a cat, dog, and mouse for help planting some wheat, she gets no takers: "'Not I!' said the cat. 'Not I!' said the dog. 'Not I!' said the mouse." They won't water, cut, or grind the wheat . . . or help bake a cake with it, either. So, in the end, the Little Red Hen eats the cake all by herself as well! Paul Galdone's delightfully detailed ink and wash illustrations—packed with charming details—add plenty of sly humor to the well-loved story that not only offers a sage message, but also shows children what it takes to make a cake from the ground up!